Now at gymNation Saco!  
PARTIES ARE POSTPONED UNTIL FALL OF 2021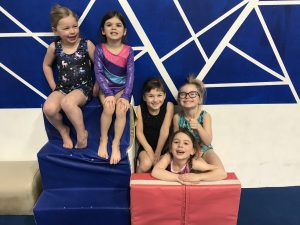 ---
Saturdays 1:00-2:45/3:00-4:45
1 hour gym time    45 min. party time
Cost: $275 up to 16 kids
Ages 3 and older
Cost includes: table/chairs for party time, gymNation t shirt for birthday child.
Location: gymNation Saco
---
"It doesn't have to be just another party!"
Parents, we're here for you! Let us help you create an exciting and memorable experience for your child and his/her friends. Come party at gymNation whether it's for a birthday, accomplishment, or just a chance to celebrate friendship. We love working with children and specialize in physical activity and fun.
Choose from one of our awesome party themes.
gymNinja Party!- gymNation's version of Ninja. Be prepared to run, climb, jump, hang and swing through fun obstacles designed just for your group. Our coaches know their stuff when it comes to keeping kids challenged and engaged. gymNinja parties start with a warm up to get bodies ready for the adventure, then on to the obstacles where fun and safety are a priority.  Make your child's gymNinja party competitive by adding the element of timing each child as they travel through the course or keep it low key with no timing involved. Each party ends with some free time on courses and a group activity that highlights the birthday recipient.
Gymnastics Party! – gymNation's "true gymnastics" party. Activities and instruction are included on all our gymnastics equipment including our 40' Tumble Trak and trampoline. Your child's party will be designed around the age appropriateness of the group and will include games and warm up activities. Is there a favorite game or activity your child wants to do?  Let us know and we will make it happen.  The gym party will include free time on equipment and a group activity highlighting the birthday child.
What's included: gymNation will provide you with party tables, chairs, help with set-up and clean-up and staffing during the event.
You should plan on bringing your own decorations and food.
All party participants should be dressed in appropriate clothing for physical activity. No dresses or jeans please. Feet should be bare in the gym.
All guests must have a release form completed by a parent or legal guardian before the party begins.
If you are interested in learning more about planning a party at gymNation and would like someone to contact you soon, please fill out the form below.
---
Party Release Form
Party Release Form (295 downloads)