Welcome to gymNation Kennebunk!
Educational Programs
Educational Programs
Fit & Learn Preschool
Fit & Learn School is a fitness- based educational program that combines preschool education with nutritional lessons with a forty-five minute gymnastics class each day.
Each day in Fit & Learn, we will focus on a number of educational themes including art, language arts, science, mathematics, music and creative expression, allowing your child to receive a well rounded experience that will help prepare him/her for school socially, mentally, and physically.
Gym Peeps (ages 2 – 3 yrs)
The Gym Peep Program is an introduction to preschool.  This program is mainly a social and experiential class.  Children are encouraged to play and explore.  Participation in a daily craft or project as well as a circle time is encouraged.  The Peeps Program includes 20-30 minutes of gymnastics daily.
Gym Frogs (age 3 & 4 yrs) 

The Gym Frog Program will expose your child to a variety of learning experiences in a fun, nurturing setting.  Children are encouraged to participate in whole group as well as small group learning activities. 
Free play and social learning is very important at this stage of learning and is a vital part of this program.  Numbers, counting, letters, sounds, and patterns will all be introduced.  A fun craft project/activity will be part of morning centers.  A daily circle time will encourage language use, cooperative learning and singing!  Many themes will be explored throughout the school year.  This program includes a 45 minute gymnastics class daily.
Bright Stars Begindergarten
The Bright Stars Begindergarten Program is designed for the child who needs or is ready for a more accelerated class. Children will work on letter recognition, upper and lower case letter formation, letter sounds, reading readiness, sight words, writing and math concepts including number recognition, counting, skip counting, forming numbers, basic addition, patterns and measurements. Children will also have many opportunities for creative play when appropriate. The program includes 45 minutes- 1 hour daily of fitness (gymnastics, ball sports, creative movement, etc.)
Fit & Learn Staff
Brenda Plante – Owner, gymNation


Kate Lindblom – Lead Teacher/Coach, Bright Stars Begindergarten
Jess Boynton – Lead Teacher/Coach, Fit & Learn Prescool and ASC
Teena Bach – Lead Teacher/Coach, Fit & Learn Preschool
Casey Migliori – Assistant Teacher/Coach
Alli Plante- Assistant Teacher/Coach
All Tiny Star Teachers are USAG Safety Certified, First Aid/CPR Certified and attend yearly onsite and offsite Education Courses through Maine Roads to Quality.
Please e-mail Brenda at gymnationkennebunk@gmail.com for more information.
Recreational Gymnastics
Recreational Gymnastics
We have many gymnastics programs, from preschool classes to team programs. Be sure to get more information on the program that fits you best. Our staff is flexible and will work to facilitate your requests. If you would like private lessons, feel free to ask. Call us with any questions!
Toddler Gymnastics
Our Toddler Gymnastics Class is a parent-tot class for walking toddlers through 3 years old. Together, you and your toddler will learn the fundamentals of movement, basic gymnastics body positions, and skills using the gym's fun-filled movement stations specifically designed for your toddler. As you and your child go through each station with your group instructor, we will teach you proper spotting techniques and talk about movement goals. A group activity will conclude this fun parent-tot class.
Ages: walking – Age 3 | class duration: 45 minutes
VIEW 2020-2021 SCHEDULE & REGISTER
Preschool Gymnastics
Our Pre-School Gymnastics Program is for children age 3 – 4. This class is designed for children who are able to be in a class independent of their parents. Utilizing the same routine as our Toddler class, children will learn balance, coordination, and strength while moving through more challenging circuits. During this class, we will go over various basic gymnastics movements and introduce organizational and social skills such as cooperation, listening, and following directions.
Ages 3-4 years old | class duration: 45 minutes
VIEW SUMMER 2020 SCHEDULE & REGISTER
VIEW 2020-2021 SCHEDULE & REGISTER

Girls' Jr. Recreational Gymnastics
Girls' Junior Recreational Gymnastics is for children ages 5-6. This class transitions children from the simple activities of the preschool program into more form-oriented gymnastics. This class will explore new challenges appropriate for this age group while social and organizational skills are still being reinforced. Proper gymnastic terminology will be introduced, and as children progress toward more difficult skills, safety guidelines will be incorporated.
Ages 5-6 years old | class duration: 60 minutes
VIEW SUMMER 2020 SCHEDULE & REGISTER
VIEW 2020 – 2021 SCHEDULE & REGISTER
Girls' Rec 1 Gymnastics
Our Girls' Recreational 1 class is for girls ages 7 and older. Students in this class will use regulation Olympic equipment and trampolines. Gymnastics skills will be developed using various drills as well as flexibility and conditioning techniques. Gymnastics routines will be introduced and practiced with an opportunity to perform them for families and friends at our non-competitive recreational meets during the year.
Ages 7+ years old | class duration: 75 minutes
VIEW SUMMER 2020 SCHEDULE & REGISTER
VIEW 2020-2021 SCHEDULE & REGISTER
Girls' Rec 2 Gymnastics
Our Girls' Recreational 2 program is for the recreational gymnast who has progressed through the Girls Rec 1 program and is ready for new challenges in Olympic events and trampoline. There will be an emphasis on safety and fun as these gymnasts increase their skill level as well as opportunities to participate in non-competitive recreational meets.
Ages 7+ years old | class duration: 75 minutes
VIEW SUMMER 2020 SCHEDULE & REGISTER
VIEW 2020-2021 SCHEDULE & REGISTER
Girls' Intermediate/Advanced
This "invitation only" class is for the gymnast who has demonstrated proficiency on all of the Olympic apparatus in either Rec. 1 or 2.
Ages 7+ | class duration: 75 minutes
Summer Camp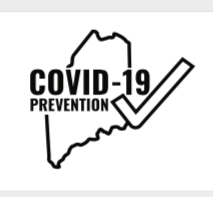 Kennebunk

Summer Camps
Twelve weeks of Summer Fun and Fitness!
(Click on the links below or call Heather at 207-985-6621 to register)
KENNEBUNK SUMMER 2020 CAMPS
70's Disco Party

Get ready for some funky music and a disco ball dance party! Wear your favorite tie-dyed shirt, bell-bottom jeans, or hip and sparkling outfit! Start practicing your dance moves as we will have a dance-off!

Awesome 80s

Have you ever heard of the washing machine, the sprinkler, or the shopping cart? Well, join us in the 80s, where color was big, and the hair was bigger! We will wear bright colors and learn all the games of SPUD, the ins and out of 4 square and much more!

90's Blowout Bash

Dress in your best 90's outfit; overalls, plaid, Capri leggings, colored jeans. Learn history, all while having a blast! Listen to our 90's pop playlist! Learn jump rope games, many versions tag, and learn some cool techniques with string, Gimp, and beading! Make Fortune tellers and have some splatter paint fun!

Sailing the Seven Seas

Ever wonder what it's like way out in the sea where there's no land around you? What can you hear, see & touch? Explore the world of the sea from way below to the creatures who lurk & to those trying to find new friends & find out what a pirate's life really is about! Will you sink or float, will you discover a new creature below or will you talk to a seagull or bump into a mermaid & help her discover new things far below and travel the seven seas with them all & create a story to tell your friends!

Wild n' Out

Just imagine you're laying low in the tall grass peeking through your binoculars, and what do you see? Zebras are drinking from the water hole, and Lions are napping on a rock & giraffes are eating leaves from one of the tallest trees you've ever seen. Now you climb aboard a boat that takes you on a cruise through the Amazon where you see monkeys swinging from trees, hippos alongside your boat & crocodiles sunbathing in the mud! These wild things are everywhere, and we must take this journey from pride rock to the jungles of the amazon & explore their world and what makes them & keeps them wild!

Lights, Camera, Action

Do you have what it takes to showcase all that you can do? Can you scale the walls, tuck & roll all without being seen? Can you sing from the mountain tops, can you dance like no one is watching? Take all your skills from not just your body but also your mind, capture these fantastic talents from behind the scenes with videos and photography, even learn to navigate the world of lights, camera, action. Learn some of the tricks of how to be a stunt person, sing & dance on stage like you're ready for Broadway! Every good act needs to be captured, so if you're not one to be the center of attention, don't worry, every good show needs a great director.

To a Galaxy Far, Far Away…..

Have you ever looked up to the stars at night and wondered, is there anyone up there, what are they doing, where do they live, how do they travel & what do they eat? Join us in exploring the world of a galaxy far far away, where we go on a hunt for aliens and creatures, build a rocket or two & what is life really like on mars? Maybe if we're lucky, we'll run into a Jedi on our journey, and we'll learn the ways of the force through our mind & body! As the great Master Yoda would say, "truly wonderful, the mind of the child is!" Let your imagination take hold and explore the world where there are no limits to the possibilities.

Backyard Shenanigans

Join us in exploring the world of the child from past, present & future. We will explore what the schoolyard was like, what games were played & if those seem like games we could play today or maybe keep them in the box for another day. Let the kids take charge and teach us about the games they play, whether it is one they've learned or one they've created themselves. Do you remember 4 square, jump rope songs, knock out, parachute games, red rover, and Mr. Fox? There are so many games we can explore from indoors to outdoors there's not much stopping us from having a great time! You may even see some botchy ball or maybe ladder golf or the good ole game of horseshoes. A week of games sounds fun to me, join us, and you will see!

Let's Put the ART in Party and dress for a Mess

Sponges, brushes, forks, marbles, toes, fingers, string & more. Those are just a few of the ways to express yourself through art. We'll explore all sorts of ways to paint & draw, but we'll also explore how to express ourselves through music & gymnastics/dance. Our bodies are amazing things & you'd be surprised by what they are capable of doing! Learn to express yourself through not just your typical art but from all the art forms! Don't be shy; just let it go and feel it. Take a chance with something new, pick up a drum or shake a maraca, feel the rhythm & feel the beat listen to the music, and move your feet.

Carnival Fiesta

Everyone loves a good party, and party games, so join us this week and we will play carnival games, do face painting, create a photo booth, & enjoy some freshly popped popcorn! With colors all around & festive music in the background this party is sure to make an impression!

Wonderland: All are Welcome

Let your imagination take you on a journey through a world all your own, fill it with magic, dragons, animals that talk & clouds who sing. Here in wonderland nothing is impossible. We have cars that fly & swim & dogs who play baseball! We encourage the unthinkable & strive for the impossible because imagination is your strongest tool and together, we'll create a world unlike any other! Relive stories from the books or create our own, the world is our canvas and we're here to make our stamp!

Calling All Imagineers

Can you build a shelf out of paper that holds books? Can you build a structure that floats? Or what about building a bridge a toy car can drive over? This week is all about using your imagination to build things with your usual items such as blocks and tiles but also using paper, popsicle sticks, toothpicks, and some other non-traditional building supplies. How tall can you make it? How long can it go? What worked well & what could've gone better, all these things we will discover together using our problem- solving techniques and become the engineers of tomorrow!
After School Club
After School Club
Give your child a great fitness-based after-school activity
The After School Club is a fitness-based program that creatively combines gymnastics, physical activity, and play. The Coaches' goal is to develop self esteem: the confidence in one's abilities.  Socializing and playing with peers will help prepare children to engage in all future activities mentally and physically.  Mentally through physical activity, children will learn to motivate themsleves and perform in highly emotional situations.  Physically, the gymNation environment may help maintain healthy bones, build lean muscle, and may prevent future chronic diseases.
Our Fitness-based After School Program will provide children with physical activity in a safe and fun environment. Emphasis will be on learning and /or improving gymnastic skills as well as a focus on general fitness. Children have homework help by our qualified staff.  Grades K-5.
gymNation is committed to providing a safe and healthy environment.  Our goal is to promote a lifelong love of physical activity and education.
Kennebunk Events
Kennebunk Events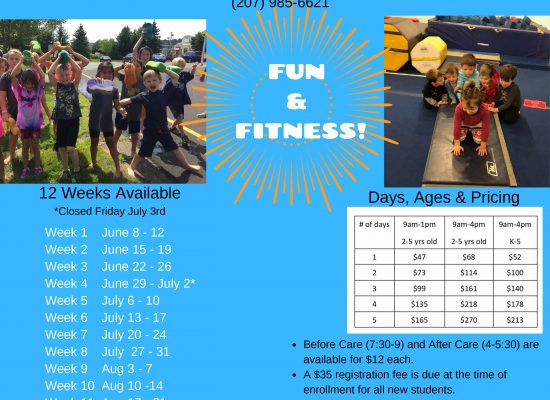 When: June 8, 2020 – August 24, 2020 all-day

Where: gymNation Kennebunk, 63 Portland Rd, Kennebunk, ME 04043, USA
Birthday Parties
Party gymNation
---
GymNation Birthday parties can be gymnastics, yoga or a combination of both. Coaches will provide 1 hour of fitness fun, and 45 minutes in party room.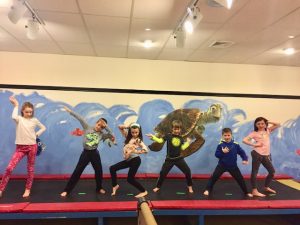 Basic Party includes t-shirt for birthday child, balloons for all guests, set up and clean up. $240 for up to 15 children.
Deluxe Party includes t-shirt for birthday child, party favors and balloons for all guests, ice cream cake, juice boxes, all paper products, set up, clean up and help during the party. $330 for up to 15 children.
If you are interested in learning more about planning a party at gymNation and would like someone to contact you soon, please fill out the form below.
Party Release Form
Kennebunk Schedules
Kennebunk Schedules