Welcome to gymNation Saco!
Educational Programs
Educational Programs
Fit & Learn Preschool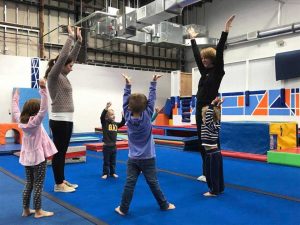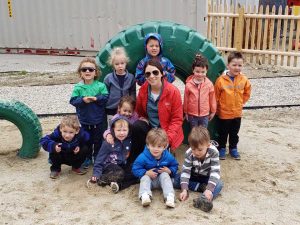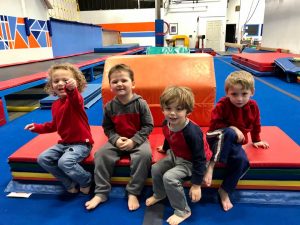 Each day in Fit & Learn, we will focus on a number of educational themes including art, language arts, science, mathematics, music and creative expression, allowing your child to receive a well rounded experience that will help prepare him/her for school socially, mentally, and physically.
Our Saco Fit & Learn Preschool is a Mixed Aged Program for 2-5 year olds. We combine daily fitness activities with nutrition, play and academics. Students will benefit from a daily gymnastics lesson as well as circle time, centers, outdoor play, music & movement and free play. We serve a healthy snack each morning. Preschool Options include: Tuesday/Thursday, Monday/Wednesday/Friday or Monday through Friday. All children attend 8:30am-11:30am and we also offer Before Care starting at 7:30am and After Care with options until 1pm, 3pm and 5:30pm. 
Saco Fit & Learn Preschool Staff:
Heather Dumas – Director, gymNation Fit & Learn Preschool Kennebunk and Saco
Nicole Melo – Lead Teacher/Coach, gymNation Fit & Learn
Recreational Gymnastics
Recreational Gymnastics
We have many gymnastics programs, from preschool classes to team programs. Be sure to get more information on the program that fits you best. Our staff is flexible and will work to facilitate your requests. If you would like private lessons, feel free to ask. Call us with any questions!
Toddler Gymnastics
Our Toddler Gymnastics Class is a parent-tot class for walking toddlers through 3 years old. Together, you and your toddler will learn the fundamentals of movement, basic gymnastics body positions and skills using the gym's fun filled movement stations specifically designed for your toddler. As you and your child go through each station with your group instructor, we will teach you proper spotting techniques and talk about movement goals. A group activity will conclude this fun parent-tot class.
Ages: walking – Age 3 | class duration: 45 minutes
Preschool Gymnastics
Our Pre-School Gymnastics Program is for children age 3 – 4. This class is designed for tots who are able to be in a class independent of their parents. Utilizing the same routine as our Toddler class, children will learn balance, coordination and strength while maneuvering through more challenging circuits. During this class we will go over various basic gymnastics movements and introduce organizational and social skills such as cooperation, listening and following directions. Our preschoolers have their own gym designed for little ones!
Ages 3-4 years old | class duration: 45 minutes
Boys' Jr. Recreational Gymnastics
Boys' Junior Recreational Gymnastics is for children ages 5-6. This class is transitions children from the simple activities of the preschool program into more form-oriented gymnastics. This class will explore new challenges appropriate for this age group while social and organizational skill are still being reinforced. Proper gymnastic terminology will be introduced, and as children progress toward more difficult skills, safety guidelines will be incorporated.
Ages 5-6 years old | class duration: 60 minutes
Girls' Jr. Recreational Gymnastics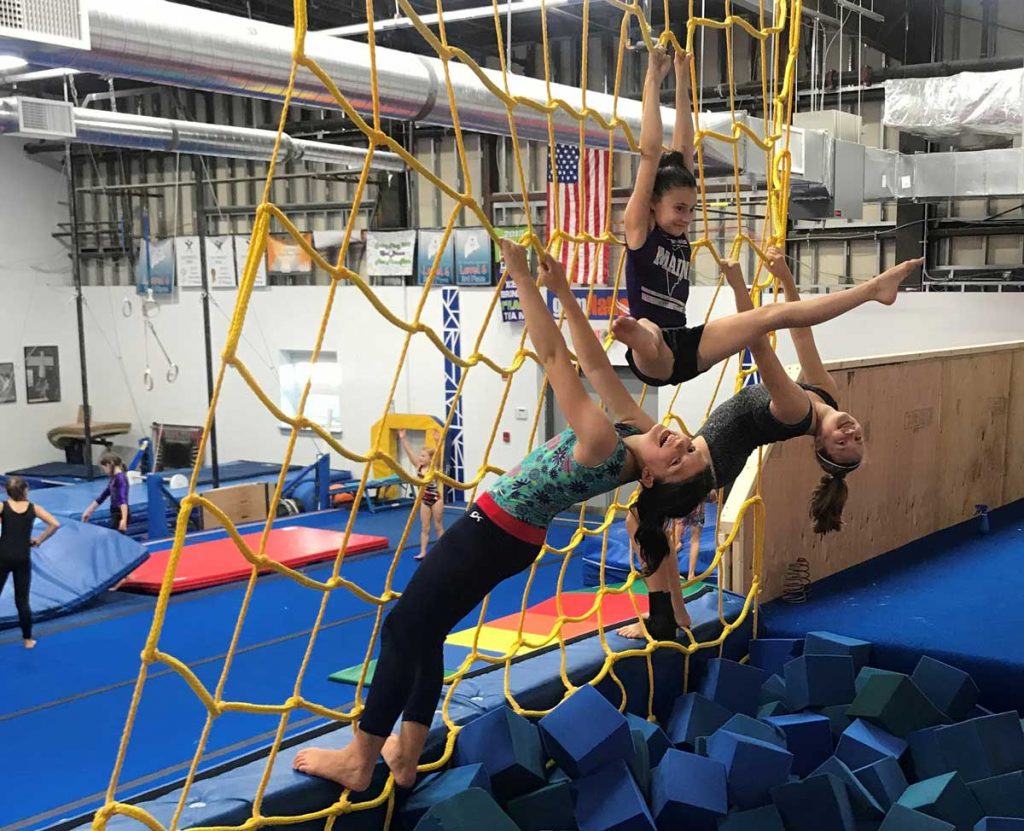 Girls' Junior Recreational Gymnastics is for children ages 5-6. This class is transitions children from the simple activities of the preschool program into more form-oriented gymnastics. This class will explore new challenges appropriate for this age group while social and organizational skill are still being reinforced. Proper gymnastic terminology will be introduced, and as children progress toward more difficult skills, safety guidelines will be incorporated.
Ages 5-6 years old | class duration: 60 minutes
Girls' Rec 1 Gymnastics
Our Girls' Recreational 1 class is for girls ages 6 and older. Students in this class will use regulation Olympic equipment and trampolines. Gymnastics skills will be developed using various drills as well as flexibility and conditioning techniques. Gymnastics routines will be introduced and practiced with an opportunity to perform them for families and friends at our non-competitive recreational meets during the year.
Ages 6+ years old | class duration: 75 minutes
Girls' Rec 2 Gymnastics
Our Girls' Recreational 2 program is for the recreational gymnast who has progressed through the Girls Rec 1 program and is ready for new challenges in Olympic events and trampoline. There will be an emphasis on safety and fun as these gymnasts increase their skill level as well as opportunities to participate in non-competitive recreational meets.
class duration: 75 minutes
Girls' Competitive Prep
Girls' Competitive Prep- (Invitation only) This class is for the gymnast who has demonstrated proficiency on all of the Olympic apparatus in either Rec 1 or Rec 2 and perhaps has an interest in the competitive team in the future. This is a faster-paced class that offers the opportunity to increase strength and flexibility and enhance their gymnastics skill level. Gymnasts will be learning routines from the USA Gymnastics Junior Olympic program and will showcase them at the recreational meets during the year. Participation in this class must come by a coaches' recommendation.
Ages 7+
Girls' Pre-team

Girls' Pre-team- (Invitation only) This one hour class is designed for the 4 or 5 year old that has shown aptitude and a love for gymnastics in their Preschool or Jr Rec class and competitive gymnastics may be in their future. Good listening skills and focus are required. Coach recommendation required for participation. Ages 4-5
Boys' Rec 1 Gymnastics
Our Boys' Recreational Gymnastics class is for boys ages 5-7. This class is designed just for the male gymnasts who wants to have fun while developing strong bodies. Skills on bars, pommel horse, rings, vault, floor and trampoline will be developed using a safe methods in a positive learning environment. Through the use of games and circuits boys will become strong and flexible awhile improving their cardiovascular fitness. This class is beneficial for athletes involved in any other sport.
Ages 7+ years old | class duration: 60 minutes
Preschool Homeschool Gymnastics Class
This is a great class for preschool students to participate in learning gymnastics.
Homeschool Gymnastics Class
This is a great class for home school families to participate in learning gymnastics.

Beginner Tumbling
Focus in this class will be on learning the fundamentals of tumbling which will include rolls, handstands, cartwheels and round offs. Front and back handspring progressions will be introduced as the basics are mastered. Trampoline and Tumble trak will be used along with spring floor in the training.
Ages 5+ years | class duration: 60 minutes
Drop-in Tumbling
"Drop In" Tumbling- This tumbling class is designed for the "busy" athlete who may be involved in cheering or other performance sports. Our coaches will individualize participants needs according to their goals and ability levels. Skill progression, strength and flexibility will be the focus while training on the spring floor, trampoline and tumble trak. All gymNation tumbling coaches possess strong spotting techniques to aid in training.
Ages 8+ years old | class duration: 60 minutes
Competitive Gymnastics
Competitive Gymnastics
The Junior Olympic Competitive Program
The Junior Olympic program caters to those gymnasts who live, eat and breathe gymnastics. In the JO program we start competing at level 2 and progress numerically up to level 10. All gymnasts in levels 2, 3, 4 and 5 will be judged on the exact same routine. Their technique and attention to detail will be highly scrutinized by professional certified gymnastics judges. These compulsory levels have been designed from level 5 down to level 1 (yes in reverse order) to facilitate the progression toward a basic foundation from which gymnasts can safely and easily transition into the Optional levels (levels 6-10). In these levels the children will be performing their own individually designed routines that meet each level's requirements. The requirements get progressively harder and gymnasts are judged not only on their technique, but their artistry and diversity of skills.
The Xcel Competitive Program
This program is for athletes who play more than one sport. Xcel levels are Bronze (XB), Silver (XS), Gold (XG), Platinum (XP) and Diamond (XD). Xcel athletes will only ever practice two times per week and are encouraged to participate in other sports. Each level in the Xcel program has specific requirements that must be met doing an optional routine. (Our gymnasts may be performing the same routine, but no other gyms will have the same routine.) The skills will still need to be performed with proper technique and good form (straight arms and legs and pointed toes), but the judging is less strict than in the JO program.
Mobility
For Girls Team the process of moving from one level to the next is done by first, scoring out of the current level. Gymnasts must score 31.00 at levels 2 through 7, XB, XS, XG and 34.00 for levels 8, 9 and XP. The second part is being able to perform all of the skills needed for the next level. The third part is conditioning and flexibility testing. As the gymnast performs more complex skills it is important that their overall fitness improves to maintain their health and safety. Finally their work ethic and maturity must also be appropriate for the upcoming level.
Competitive Team Financial Policies
Program Withdrawal
If you are considering withdrawing from the competitive program prior to your yearly commitment (July 1-June 30th) Please schedule a meeting with your child's coach. We also must receive a written notice of withdrawal on or before the 15th of the month prior to withdrawal. If we do not receive written notice on or before the 15th, tuition for the next month will be charged.
Program Refunds
NO REFUNDS OR CREDITS for competitive fees will be provided after September 1st.
Tuition
Our team program is based on a year round commitment from the gymnast and their family. Tuition will only be adjusted in the event of an injury or extended illness. There are no make ups for missed practices. Practices cancelled due to inclement weather will try to be re-scheduled but not guaranteed.
Meet Fee Assessment
The Meet Fee Assessment is an annually calculated lump sum that covers the cost, for gymNation, of your child attending competitions. These costs are in addition to tuition. Your meet assessment is determined by estimating meet entry fees, coaches' fees and mileage. The Meet Fee Assessment varies and is based on level because different levels attend a different number of competitions and each entry fee, mileage and number of coaches needed to attend specific meets varies. Meet assessment fees are due on the 15th of the month beginning in August. The fees will average $300 per month with XB owing 1 payment, Level 2 and XS owing 2 payments, XG, XP, XD owing 3 payments and levels 3-9 owing 4 payments.
The specific schedule for a competition is often not known until two weeks prior. Please keep the entire weekend available. Parents should not contact the host gym regarding session times.
Tuition Adjustments
We offer a few different tuition adjustments (below). You must notify the office in writing by the 15th of the month prior in order to receive an adjustment. After the 15th of the month the following month's tuition payment is non-refundable.
Team Member Reserve Rate
If a competitive team gymnast is going to miss an entire month (i.e. July or August or 4 consecutive weeks) of workouts during the summer, you may choose to receive a 50% Reduction on your child's tuition to reserve your child's spot in the program. You must notify the office in writing to receive the reduced rate. (Optional gymnasts who miss an entire month of practice will have their level re-evaluated, upon their return, for their upcoming competitive season).
Injury Rate
Competitive gymnasts who are injured and will be required to limit their participation for a month (or more) may receive a 50% reduction (or more) on their tuition rate based on the discretion of the coaching staff. Parents must meet with the coaching staff to discuss extended absences and physical limitations due to an injury. The office must then be notified to receive the tuition adjustment.
Your Family's Commitment

The parents' role in your child's success in gymnastics is very important. The commitment you make is just as great as your child's. The hardest task facing a gymnast's parent is providing the right amount of support. Getting too involved or not enough can put undue stress on your child. Leave the coaching to the coaches. Be positive in your comments on attitude, behavior and work habits. Encourage improvement, hard work and perseverance. Most of all get your gymnast to practices regularly and on time. A parent observing practice on a regular basis is not encouraged. You can watch occasionally or come in early near the end of practice. Then the progress your child is making will be more evident verses the corrections made on a daily basis. We do encourage you to talk to your child about practice and if you have any questions or concerns feel free to talk to their coach or myself.
In closing, we understand what a tough decision this can be. Please keep in mind that beyond the physical and mental discipline your child will continue to develop, there are lifelong friendships to be found in this sport. The maturity it takes to expect 100% from themselves and their teammates, learning to perform under pressure for the sake of the team, staying positive in the face of disappointment and summoning emotional strength to encourage other teammates in need.
Saco Events
Saco Events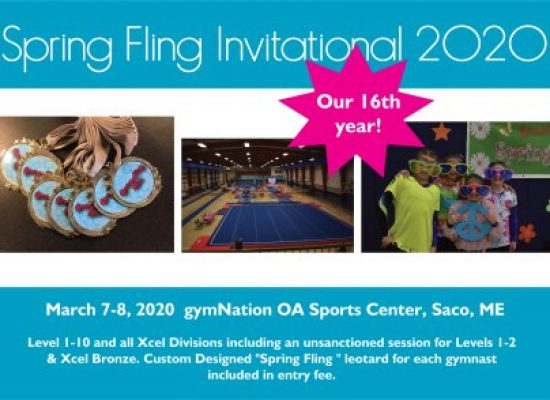 When: March 7, 2020 – March 8, 2020 all-day

Where: OA Sports Center, 15 Lund Rd, Saco, ME 04072, USA

March 7-8, 2020 gymNation OA Sports Center, Saco ME 15 Lund Road, Saco ME 04072   207-602-6525 Level 1-10 and all Xcel Divisions including an unsanctioned session for Levels 1-2 &…
Birthday Parties
Party gymNation
---
Saturdays 1:00-2:45/3:00-4:45
1 hour gym time    45 min. party time
Cost: $275 up to 16 kids
Ages 3 and older
Cost includes: table/chairs for party time, gymNation t shirt for birthday child.
Location: gymNation Saco
---
"It doesn't have to be just another party!"
Parents, we're here for you! Let us help you create an exciting and memorable experience for your child and his/her friends. Come party at gymNation whether it's for a birthday, accomplishment, or just a chance to celebrate friendship. We love working with children and specialize in physical activity and fun.
---
Themed Parties
Choose from one of our awesome party themes:
gymNinja Party!
gymNation's version of Ninja. Be prepared to run, climb, jump, hang and swing through fun obstacles designed just for your group. Our coaches know their stuff when it comes to keeping kids challenged and engaged. gymNinja parties start with a warm up to get bodies ready for the adventure, then on to the obstacles where fun and safety are a priority.  Make your child's gymNinja party competitive by adding the element of timing each child as they travel through the course or keep it low key with no timing involved. Each party ends with some free time on courses and a group activity that highlights the birthday recipient.
Gymnastics Party!
gymNation's "true gymnastics" party. Activities and instruction are included on all our gymnastics equipment including our 40' Tumble Trak and trampoline. Your child's party will be designed around the age appropriateness of the group and will include games and warm up activities. Is there a favorite game or activity your child wants to do?  Let us know and we will make it happen.  The gym party will include free time on equipment and a group activity highlighting the birthday child.
What's included: gymNation will provide you with party tables, chairs, help with set-up and clean-up and staffing during the event.
You should plan on bringing your own decorations and food.
All party participants should be dressed in appropriate clothing for physical activity. No dresses or jeans please. Feet should be bare in the gym.
All guests must have a release form completed by a parent or legal guardian before the party begins.
If you are interested in learning more about planning a party at gymNation and would like someone to contact you soon, please fill out the form below.
---
Party Release Form
gymNinja Class
gymNinja Ninja Class
Where Mind and Body Become Fun!
At gymNation we help teach children about focus and reaching for challenging goals. With that in mind, we offer our "Ninja" program with our gymNinja classes for boys and girls. Children learn the value of teamwork and how to encourage others. Limited space available in this super exciting program. Annual registration fee applies.
Click below to watch a video and sign up to reserve your child's spot in class!
Saco Schedules